Top marks for Long Close School in latest inspection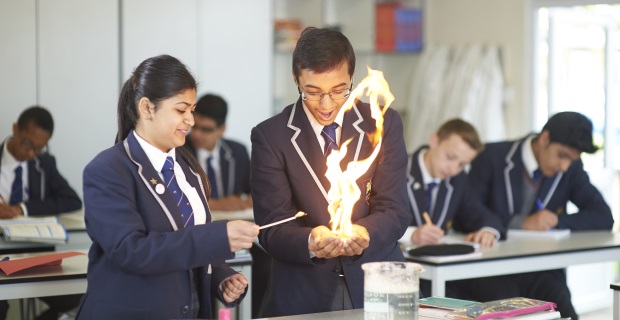 Cognita's Long Close School in the UK is celebrating the achievement of "outstanding" in all areas in its latest independent inspection report. The accolade places Long Close in esteemed company within Cognita: it is one of a growing number of schools in our worldwide Group boasting the highest possible rating by independent inspection bodies such as Ofsted, The Independent Schools Inspectorate, the School Inspection Service and CfBT Trust.
A full 'roll of honour' of Cognita schools deemed 'outstanding' or equivalent on all measures is included below.
The top-of-the-class judgement for Long Close School by The School Inspection Service reflects the commitment to ongoing improvement led by Headmaster Brendan Pavey. He said: "Each and every member of the Long Close School community has been an important part of this success and we should all be very proud to be part of it."
"There are some wonderful comments in the report and the inspectors were hugely impressed by all the children that they had met. They found them to be confident, thoughtful, polite and interesting. They are a credit to the school, their teachers and their parents."
"Personally I am delighted with this report, but at the same time I am determined to maintain the momentum of this positive outcome, harness the team spirit that is very much in evidence around the school, and to continue to look for ways to improve the education that we offer here at Long Close."
Commenting on Long Close's achievement, Max Vialou-Clark, Chief Executive of Cognita Europe, said: "I am delighted at this result for Brendan and his team. A recurring theme in the SIS report on Long Close is the school's absolute commitment to ongoing improvement – from teachers' 'constant review and modification' of the curriculum to a 'thirst for learning that permeates all aspects of the school's work.' It is this commitment that leads to educational excellence and enables children to achieve beyond expectation."
Roll of Honour
The following Cognita schools have been awarded the highest possible rating – 'outstanding' or equivalent – by third-party, independent inspection bodies:
Breaside School, Bromley, UK
Charterhouse School, London, UK
Cumnor House Nursery (Treetops), South Croydon, UK
Downsend Pre-Preparatory School Ashtead, Surrey, UK
Downsend Pre-Preparatory School Epsom, Surrey, UK
Downsend Pre-Preparatory School Leatherhead, Surrey, UK
Duncombe School, Hertford, UK
Glenesk School, East Horsley, UK
Huddersfield Grammar School, Huddersfield, UK
Hydesville Tower School, Walsall, UK
Long Close School, Slough, UK
Meoncross Nursery, Fareham, UK
Milbourne Lodge Preparatory School, Esher, UK
North Bridge House Nursery, London, UK
North Bridge House Preparatory, London, UK
North Bridge House Senior School & Sixth Form Canonbury, London, UK
Polam Nursery and School, Bedford, UK
Sackville School, Hildenborough, UK
St Margaret's Preparatory School, Halstead, UK
St. Andrews International School Green Valley, Rayong, Thailand
St. Andrews International School Sathorn, Bangkok, Thailand