What does it take to be a "leader" in education?

Simon Camby, Cognita's Group Education Director argues all great leaders in education demonstrate five consistent qualities. I've been in a leadership role in education for 20 years – starting as a leader of a small team in a school, becoming a head teacher and now the Director of Education for a global schools group in eight countries. I've had the opportunity and privilege to work in a range of contexts – individual schools, groups of schools, in the UK and internationally. This has enabled me to work on developing my own leadership but also to observe the leadership of many colleagues.
Leadership theories and models are useful. What others have to say is, without doubt, a gift to us all, but I'm now wondering whether the model of leadership needs to be of a much simpler order – perhaps not a model at all, just an approach.
My own approach to being a leader has developed through observing and working alongside great leaders. I wonder if leadership is much more straightforward than many of the prevalent models suggest. It seems to me that all effective leaders, regardless of position or context, demonstrate five main elements in their work. One of these elements is central and the other four are contributors.
The overarching quality that all great leaders demonstrate is authenticity. Without it, they're on the back foot. But an equally important point which I've observed in leaders – authenticity can only be judged by the recipient. No matter how authentic any individual believes they are, this is an irrelevance if it's not perceived and felt by others.
So if authenticity is the umbrella and ultimate deal breaker, I'd suggest four other elements contribute. I've seen these '4 h's' present and noticeable in all effective leaders: humility, honesty, hard work and humour. I've yet to find an effective, authentic leader who doesn't possess and demonstrate these in abundance:
Put simply, humility is having a modest view of one's own importance. It is central to authentic leadership.
Honesty must be at the heart of all leadership – honesty about the way of doing business and honesty as a way of interacting.
I have yet to find a highly effective leader that does not work hard and have high expectations of themselves and others. Most leaders have times when they struggle to balance aspects of their life. The best leaders recognise this and do something about it.
Finally, an aspect that is largely omitted from leadership theory: humour. When used well, humour is a powerful force for binding people together.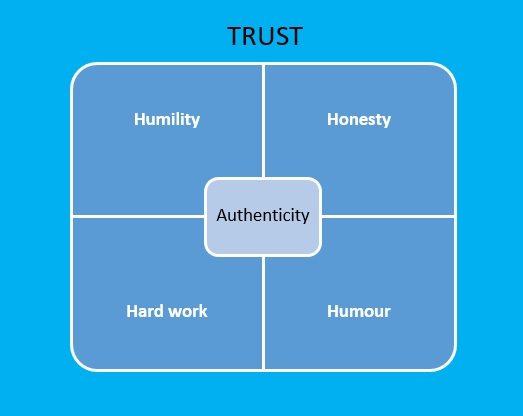 My proposal is not revolutionary, more a reflection on what I have observed and come to believe. Neither is it dismissive of leadership theories and models, many of which are hugely useful. My belief is simply that how we lead is perhaps more critical to effectiveness than what we lead. It starts from within.