Making 'virtual reality' a classroom reality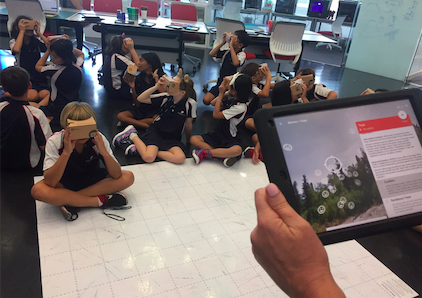 Craig Kemp, Head of Education Technology at Stamford American International School in Singapore contests that having a virtual reality kit in school is hugely beneficial and surprisingly easy to set up.
Until recently, virtual reality had been something of a fantasy but the hype around virtual reality gaming and learning has been steadily building. Integrating virtual reality into the classroom is not only simple but surprisingly cheap, with significant benefits for students.
Having a VR (Virtual Reality) kit in school is one of the most exciting ways your students can travel the world and explore concepts without having to leave the classroom. They can explore different cultures from around the world and then, with the tap of a device, they can be underwater with sea creatures from the depths of the ocean… Setting up the kit and integrating it into the classroom is surprisingly easy, too.
You can find out more about how you might introduce virtual reality into your classroom by reading the full article by Craig Kemp and Adam Torrens: 5 tips for setting up a classroom VR kit.
In addition to teaching at SAIS, Craig Kemp is a professional development speaker and has a particular focus on pedagogy to support curriculum integration of technology.
Craig is the co-founder and moderator of the trending twitter ed-chat #whatisschool which aims to provide educators with a place to express views about schooling. For further reading, please visit his dedicated education blog on wide-ranging issues, Mr Kemp NZ Blog.