ICT classes vs Ed-Tech integration explained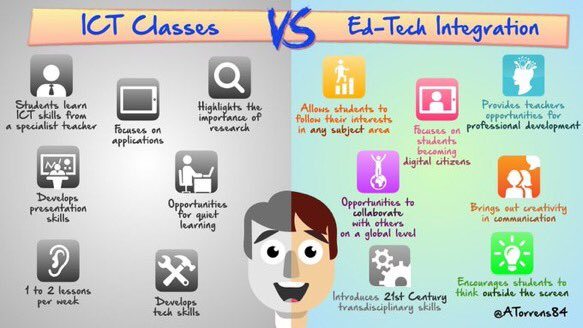 The way that a school uses technology in its curriculum depends on many factors. Adam Torrens, Elementary Ed-Tech Coach at Stamford American International School in Singapore explains the difference between straightforward ICT classes and the integration of education technology (Ed-Tech) throughout a school.
Ever since computers began appearing in the back of classrooms in the early 1980s, technology in education has changed from an independent activity station to a necessary part of teaching and learning in the 21st century. The introduction of the iPad in 2010 changed the way students learn and communicate globally.
In 2011, students at Stamford American International School were provided with 1:1 iPads within the elementary school. With this device, many teachers realised that content and information no longer needed to be memorised by students, as they now had this access to content and information at all times. The focus, at this time, was to learn more about these devices and how they could be used in the classroom.
As many educators predicted, iPads quickly began to open up possibilities for both students and teachers to improve the quality of learning experiences. Countless education-based applications flooded the app store as our ICT specialists tried to expose students to as many apps as possible that enhanced their learning. Teachers also saw an increase of students learning more about these devices outside of the classroom environment.
In recent years, the app store began to experience an increase in creation-based applications available to students. Suddenly, the priority of finding educational games for the iPads began to shift towards finding opportunities for students to create, design, collaborate and present using their iPads. Stamford began to realise that students no longer required one ICT skills-based lesson each week, but needed to begin to use these devices in meaningful authentic ways, within all subject areas.
Staff at Stamford found themselves becoming more knowledgeable when using the iPads. Students were taking iPads to PE classes, music classes and to the library. It was evident that Stamford would need to make the shift from ICT Classes to an effective, Ed-Tech Integration Model.
This change of model saw the quality of ICT use in the school improve dramatically. Almost instantly, teachers began to plan with Educational Technology tools in mind. ICT Specialists became Ed-Tech Coaches working with teachers to ensure that students are making the most of their devices. Instead of focusing on apps such as Keynote, iMovie and Mathletics, the Ed-Tech Coaches and teachers began to discuss higher order thinking skills from the  International Society for Technology in Education (ISTE) Standards. This created an important shift between focusing on applications to focusing on skills such as 'Creative Communication', 'Digital Citizenship', and 'Global Collaborators'.
Suddenly, multiplication lessons became collaboration and design projects that allowed students to design their own games are receive feedback from students in other countries. Presentations, previously completed in Keynote, became more creative and reached audiences far outside the classroom walls.
A school's use of technology in its curriculum may depend on how many devices it has access to, the types of devices and the level of expertise found within the school environment. ICT classes work best when a school is introducing new devices and practices into the curriculum while a fully immersive Ed-Tech Integration Model may be more suitable when students and teachers are experienced in basic ICT skills. Making the shift from ICT Classes to an Ed-Tech Integration Model requires extensive collaborative planning, knowledge of the school's curriculum and a willingness to embrace changes from all involved.
To view Stamford's continuing transition from ICT classes to an effective Ed-Tech Integration Model, follow us on Twitter at @MrKempNZ, @ATorrens84 and @CognitaSchools.