Global exchanges: Fostering a global mindset to thrive in a rapidly evolving world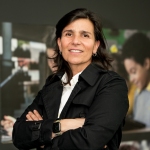 In this most recent thought leadership article, Maria Carolina Bergamasco, Director of Global Projects and Innovation, explores the significance of diverse perspectives and the transformative role of global exchanges in preparing students for a rapidly evolving world.
In an increasingly globalised society, fostering a global mindset among students has become essential for the next stage of their education and for achieving a fulfilling life. Embracing diverse perspectives not only enriches students' learning experiences but also equips them with the skills and attitudes needed to thrive.
Being part of a global school system of more than 100 schools offers an invaluable advantage to facilitate students' exchange programmes. The impact of these experiences is profound, transforming them into open-minded, culturally aware, and forward-thinking individuals. As they navigate new situations and cultures, they gain a better understanding of their own identity and strengths, instilling a sense of confidence and independence that will benefit them throughout their lives.
Exchange programmes are an important component of the holistic education we provide to students, being highly appreciated by our school communities because they act as a catalyst to develop agency, adaptability, and positive attitudes. We have a rigorous application process, which complies with all safeguarding protocols, ensuring that our students are safe and always cared for. Pre-trip orientation meetings allow students to bond with their peers and teachers while setting expectations, and guiding families on how best to make the most of this experience.
The program offers a comprehensive five-week exchange in the United Kingdom, promoting cultural enrichment, school integration, character building through outdoor activities, learning challenges, English language enrichment and leadership qualities that have already attracted the participation of more than 600 students and over 50 accompanying teachers since its launch back in 2014.
This experience invites students to step out of their comfort zone and become more empathetic and better prepared to embrace the diversity of our world, thinking beyond their local context, and expanding their knowledge of global issues. They become more aware and respectful of issues affecting communities worldwide. In addition, interaction with international peers exposes them to a wide range of ideas and experiences, enhancing their adaptability and the development of cross-cultural communication skills despite language barriers, customs, and traditions.
In turn, teachers who participate in student exchanges, or who are part of the Learning Without Borders exchange program, which is specifically focused on teacher professional development, also take full advantage of the benefits that these exchange initiatives offer. As a result, joint collaborations have been established in virtual classroom connections, digital learning projects, implementation of new methodologies, and reciprocal exchanges that also allow us to foster knowledge animation as a global school system.
In summary, exchange programmes have been successful within our school communities and have allowed our students and teachers to have life-changing experiences. We hope to continue embracing the transformative power of these opportunities, empowering young people to use their education to make a difference to themselves and others.