Five ways students benefit from outdoor adventure school trips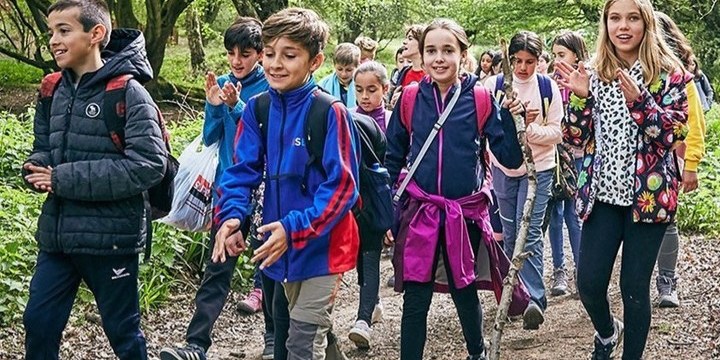 It's widely recognised that developing the whole person through age-appropriate outdoor experiences helps to equip young people with the skills and resourcefulness to grow in a fast-changing world. Schools have embraced being able to return to outdoor environments and expose students to a new way of learning through fresh challenges and organised adventure programmes. Active Learning Centre's trilogy of outdoor centres promotes this concept by taking students on a journey through woodland, coastal and mountain outdoor experiences, adapting activities and building on essential skills as children move through year groups.
As we approach Outdoor Classroom Day 2022, we asked Pat Milston, Managing Director of Active Learning Centres (part of Cognita's Active Learning Group) to consider five areas in which students benefit from an outdoors school trip or residential:
Five benefits to outdoor learning:
Curiosity – trying new things leads to an enquiring mind and students realise they are capable of so much more than they realised. Supporting a growth mindset can lead to new-found strategies which boost performance back in the classroom.
Confidence – the self-reliance required for a residential stimulates greater independence and self-esteem in students, while the highly practical, hands-on nature of outdoor learning is great for students who learn better through the application of learning. Greater self-belief will often translate back in the classroom.
Character – the ability to persevere, to keep trying, and to learn from difficult situations can build resilience in individuals and help recognise that strength lies in determination.
Building Relationships – the informal environment of the outdoors encourages children to behave and engage in a different yet fun way. New leadership and collaboration skills are tested while trust and understanding are built between peers. New friendships are built, and levels of respect for each other grow.
Wellbeing – being in nature is known to induce feelings of calm and reduce feelings of anxiety. The outdoors environment can help develop empathy and tolerance for others and enable young people to benefit from the power of perspective.
We also know that the more students can relate to their experiences, the more successful their learning outcomes. The more experiences a child is exposed to, the more broadly they can think and critically apply that thought within lessons. Real-world experiences are a vital way to prepare children for challenges that lie ahead, and the ways in which they can have a direct impact.
Active Learning Group (ALG) celebrates 5 years in 2022. As a provider of experiential education its brands collectively offer over 70 years of educational experiences, with Ardmore Language Schools operating for over 35 years and SuperCamps having been established for over 20 years and The Bushcraft Company running for over 13 years. . Delivering premier educational experiences to young people through outdoor learning, language schools and holiday provision, ALG enables access to transformational experiences through its safe, inspiring locations and teams of remarkable people.