An EdTech transformation at St Clare's School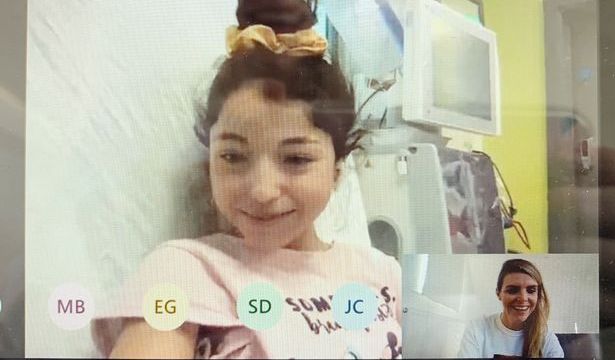 This is Summer's story. Summer is 12 years old and attends St Clare's School in Porthcawl. She wants to be a doctor. Throughout 2020, Summer spent three days a week in hospital receiving dialysis while waiting for a kidney transplant – during a global health crisis.   
One surprising outcome of the coronavirus pandemic was that Summer was able to return to learning with the same experience of every student, even from hospital, thanks to the school's comprehensive education technology evolution. 
"Having lessons is a big distraction for me because I can focus on them instead of the dialysis."  
St Clare's four-year EdTech strategy devised in early 2019 was hugely accelerated by the pandemic. With a shock 'firebreak' lockdown for Wales in October, every child at the school received a personalised device in just three days, through a huge mobilisation effort to minimise disruption to their learning. In partnership with Cognita and its family of schools in the UK, St Clare's had always planned on making this substantial investment in devices tailored to its students, pre-loaded with carefully selected learning platforms, apps and safeguarding tools, but the sudden lockdown made it urgent and essential.  
The new devices were a significant leveller. Students had previously struggled to access learning via aging iPhones and laptops. More than a barrier to learning, this was a threat to equality, impacting student wellbeing and handicapping teachers. 
The EdTech transformation at St Clare's was about much more than handing out devices, though. Parents received a guide to their educational value, with videos from teachers, wellbeing experts and Microsoft partners. Students received an 'unboxing experience' and menu of activities to get started. Personalised learning is continually prioritised as teachers are able to push more varied task types to students needing challenge. Those requiring extra provision are supported in virtual breakout rooms where wellbeing is as central to conversations as educational progress. Students are increasingly becoming more independent learners who will be better prepared for life beyond school. 
'It's so inspiring to all of us to know this new way of learning is making such a positive difference to our pupils.' Helen Hier, Headteacher 
Since teachers are key to long–lasting change, training and support via a new digital learning microsite, Digital Champion and SLT sponsor are imperative. Teachers report feeling 'invigorated' and 'excited' about professional development with EdTech at its heart. As new software and approaches continue to be adopted, new capabilities for delivering feedback win them much-needed time. Ongoing advancement is monitored via a tracker bespoke to the school, identifying best practice and areas for growth.  
The annual parent survey showed substantial gains despite the 'closure', attributable to outstanding online teaching enabled by EdTech. Read parent testimonials and view survey data here.
Three and five year plans for further development focus on opportunities to showcase wider worlds of learning, forging connections with other Cognita schools for both teachers and students.  
"This is a way of teaching we can now always offer to students like Summer; a positive change in such challenging times." – Rachel Smart, Deputy Head
Discover more of Summer's story, here.