Teenagers and sleep: Oxford neuroscientist shares research with North Bridge House School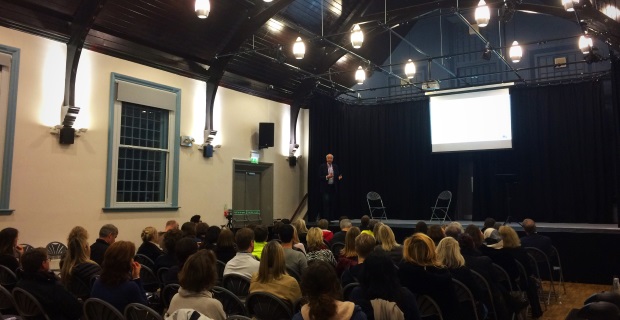 Is your teenage son or daughter out of sync with the rest of the family? Are they fuzzy and grouchy first thing but the complete opposite late at night?
On 25 November 2015 North Bridge House Senior School and Sixth Form Canonbury in London welcomed Dr Paul Kelley of the University of Oxford's Sleep and Circadian Neuroscience Institute to present research from his TeenSleep project, which is assessing if delaying the school day can help youngsters' learning.
The event was the first in a series of open events that North Bridge House Canonbury is running for parents around the particular theme of understanding teenagers.
How teenagers' sleeping patterns affect their performance in class is a hot topic right now and Dr Kelley is at the forefront of research and debate in this area. He explained that the body clock of the average 14-18-year-old is two hours out of sync with society's 9-to-5 culture, in which we get up at about 7am and go to bed at approximately 11pm.
Dr Kelley's work has been influential in shaping schools' timetables, including that of North Bridge House Canonbury, where Headteacher Jonathan Taylor has introduced a later start for Sixth Formers – and seen positive results.
Jonathan said: "North Bridge House Canonbury is committed to the personal development of pupils and, in turn, to enhancing their academic performance. As such, the School takes an active approach to understanding teenagers and how best to support them."
He continued: "We were delighted to welcome Dr Kelley – the person behind the research – to talk to parents and will hold ongoing events on the theme of 'understanding teenagers.'"
On 2 March 2016 Sarah-Jayne Blakemore, Professor of Cognitive Neuroscience at UCL, will discuss how the developing teenage brain affects behaviour and academic performance.
For more information, visit the 'Understanding Teenagers' page on the North Bridge House website.