Stamford launches Global Mentor Program with visit from Nobel Laureate, Professor Sir James Mirrlees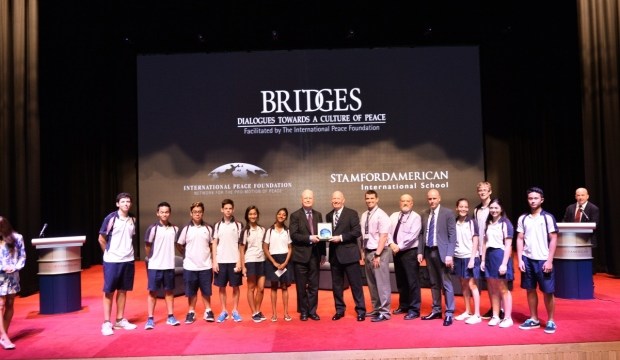 Today, Nobel Laureate for Economics, Professor Sir James Mirrlees spoke to 500 students and teachers at Stamford American International School on "Conflict, cooperation and the common good".  With his visit to Stamford, Professor Mirrlees officially launched the Global Mentor Program— which gives students access to leading global figures in the fields of business, science, social enterprise, athletics and the arts, to motivate them to excel in their chosen paths—an initiative that coincides with the launch of Stamford's completed Phase II facilities.
Through a highly engaging keynote address and dialogue with Stamford's high school students, Professor Mirrlees shared how students could look at creative ways to solve the world's current problems—optimal income taxation and conflicts around the world.
"It's very impressive to see a school that it this well-equipped and equally impressive to talk to such an organised and enthusiastic group of wonderful and well prepared students. It was enjoyable speaking to them and answering their interesting questions about current economic trends, and seeing how excited they are to learn and explore," said Professor Mirrlees.
Stamford has partnered with the International Peace Foundation to support its 5th ASEAN event series 'Bridges – Dialogues toward a Culture of Peace,' which will see acclaimed Nobel Laureate speakers conduct talks and workshops, in their fields of Peace, Chemistry, Physics and Medicine, at the school.
Centrally-located off Upper Serangoon Road, Stamford is one of Singapore's most innovative institutions. With the new addition of Phase II facilities, this state-of-the-art school is also home to a 500-seat performing arts theatre, which is fully connected to four Cognita iLEarn™ interactive learning environments around Stamford's campus, rooftop tennis courts, a Golf Academy and an additional 25 metre swimming pool and sports arena, all seamlessly connected to state-of-the art classrooms and learning facilities.
Stamford has also been chosen by the U.S. Department of State's Bureau of Educational and Cultural Affairs (ECA), to host Singapore's only EducationUSA Advising Centre, which is one of a network of hundreds around the world, and is open to all students in Singapore who are interested in learning more about higher education in the US.