Inaugural Cognita UK Swimming Gala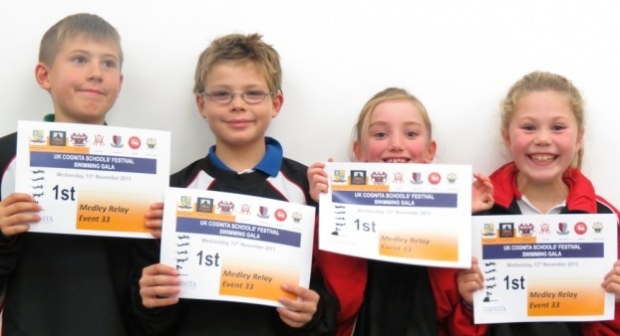 Written by: Cognita Schools
On Wednesday 13th November 2013 six of Cognita's UK schools gathered at Bletchley leisure centre in Milton Keynes for our very first 'Group' swimming gala.  With over 80 competitors ranging in age from the 7 to 15, the pool and spectator area were full of excited and enthusiastic participants and supporters.
The festival saw swimmers competing in the front crawl, backstroke, breaststroke to the challenging butterfly, open medley and relay events. The standard of swimming was exceptional with a clear group of determined competitors wanting to win for themselves and their school. Amongst the swimmers performing at the gala was a mixture of those with considerable ability looking to achieve the fastest times, as well as enthusiasts who were striving to achieve their personal best.  All swimmers are applauded for their commitment on the day!
The support was incredible and clearly enhanced the spirit of the competition, pushing the swimmers to win and lose with only 100th's of seconds between them.  The support from everyone involved ensured that no competitor was left swimming in silence, but instead found themselves heading to the finish line to the sounds of encouragement and cheers.  A big thank you must be made to those who supported and lifted those competing throughout the day.
This first swimming gala clearly highlighted the number of exceptionally talented swimmers we have studying at our Cognita schools. The organisers of this event have also given thanks to the manager and staff of Bletchley swimming pool, teachers and pupils in all the participating schools and we wait in anticipation for the next years' festival swimming gala.