EducationUSA selects Stamford American as first K-12 on-campus partner to host Singapore's only EducationUSA Advising Centre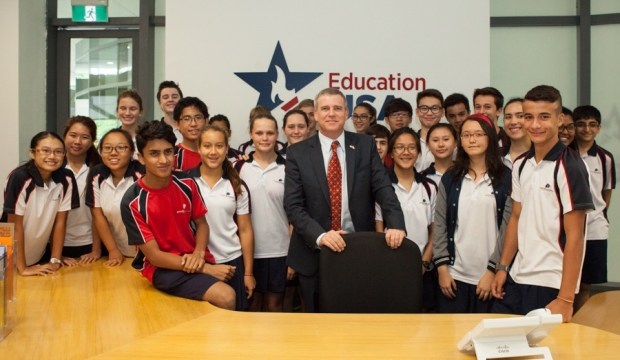 United States Ambassador to Singapore, Mr. Kirk Wagar, inaugurated Singapore's only EducationUSA Advising Centre at Stamford American International School today, marking the official launch of the school's new Phase II facilities.
The opening of the U.S. Department of State's EducationUSA facility at Stamford is one of the key features of the S$300m campus, bolstering its position as one of the world's most progressive and innovative school campuses.
The Singapore EducationUSA Advising Center will be open to all local and international students, providing information and consultation on pursuing an education at any of the over 4,000 accredited universities and colleges in the United States.
"The U.S. Embassy is pleased to open this new EducationUSA Centre at Stamford American International School in Singapore.  EducationUSA provides information and counselling services to students throughout the world who want to study in the United States.  American universities offer Singaporean students unparalleled innovation, research resources and world-class instruction.  We share Stamford's goals of promoting high quality university education for tomorrow's leaders and look forward to a successful EducationUSA partnership," said U.S. Ambassador, Mr. Kirk Wagar.
Stamford is one of Singapore's most innovative institutions. The state-of-the-art school is also home to world-class facilities including a 500-seat performing arts theater, which is fully connected to the Cognita iLEarn™ interactive learning environments around Stamford's campus.  The Cognita iLEarn allows for performances, talks and lectures from visiting speakers to be screened at multiple schools within the Cognita portfolio of leading international schools.
"We recognize that today, especially in Asia and in an incredibly modern and diverse country such as Singapore, education is very competitive. Demand for exceptional education is high and we are now perfectly positioned to cater to this with the opening of Stamford's Phase II as we progress to expand our school years up to Grade 12. We are innovating education by partnering with some of the world's top minds, athletes and industry leaders, all housed in over 54,000 square meters of campus," said Brian Rogove, CEO of Cognita Asia.
Singapore's Only EducationUSA Advising Centre
Centrally-located off Upper Serangoon Road, Stamford has been chosen by the U.S. Department of State's Bureau of Educational and Cultural Affairs (ECA) as the first K-12 partner to host Singapore's EducationUSA Advising Center. The Advising Center, available to all students in Singapore, is one of a network of hundreds around the world.  It serves as a resource for accurate, comprehensive, and current information about accredited U.S. colleges and universities.  EducationUSA advisers and staff work with U.S. higher education professionals to promote international student enrollment.
The Advising Center will not just give Stamford, but all local and international, students in Singapore a convenient and complete resource that supports their education careers from their Singapore school through to top American colleges and universities.
A State-of-the-Art School Campus
In order to provide Stamford students with a truly world-class education, an innovative, dynamic yet nurturing environment is part of the school ethos. Australian-based FJMT Architects and A61 Architects in Singapore collaborated to ensure that space is well-utilized and created with a specific purpose in mind—to inspire students by creating an environment that will be engaging and getting them excited about the learning process.
The 500-seat Reagan Theatre, one of the largest in Singapore, has a full 10-meter by 6-meter LED screen that allows students to control their backdrops or even look into chroma-key compositing for their productions.
Access to the Best International Minds and Leaders
To supplement the in-classroom experience to help students develop future-proof life skills, Stamford is working with industry partners to integrate advanced hardware, software and expertise into the curriculum.
With top-in-class educators and staff, Stamford is also focusing on partnerships with some of the world's greatest minds, athletes and industry leaders through the new Global Mentor Program.
The Global Mentor Program will give students access to global figures in the fields of business, science, social enterprise, athletics and the arts to motivate them to excel in their chosen paths.
Stamford has partnered with the International Peace Foundation to support its 5th ASEAN event series 'Bridges – Dialogues toward a Culture of Peace,' which will see acclaimed Nobel Laureate speakers conduct talks and workshops, in their fields of Peace, Chemistry, Physics and Medicine, at the school. On October 1st, Professor Sir James Alexander Mirrlees, 1996 Nobel Laureate for Economics, will present his specialist subject of "Conflict, cooperation and the common good".