Cognita students attend Model UN conferences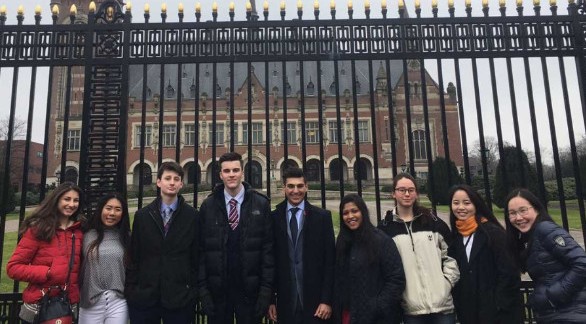 Model United Nations conferences offer students the chance to act as delegates for different countries around the world and debate issues of international importance. Working with other students from different 'nations', they draft resolutions and find solutions to the problems through global cooperation and diplomacy.
Here, we take a look at how students from Cognita schools in four different countries – Thailand, Singapore, UK and Spain – got involved.
St Andrews International School, Green Valley, Thailand
Seven students from St. Andrews Green Valley joined 340 students from other Thailand-based schools at Harrow International School, Bangkok for one of the largest Model United Nations (MUN) events in the country. The theme for this year's conference was 'Perspectives'.
This was the first MUN event for the majority of students from Green Valley so there were some nerves about debating issues such as cyber warfare, the migrant crisis in Europe and the ethics of stem cell development at the start of the day. However, all St Andrews students pushed themselves to speak and debate while representing Papua New Guinea, Belarus, Bulgaria, DR Congo, Laos PDR, Indonesia, and the Russian Federation.
The students performed admirably in their roles as international diplomats and spoke well for the views of their adopted countries. Green Valley's Head Girl performed so well that she narrowly missed out on winning the "Best Delegate" award.
Stamford American International School, Singapore
International mindedness is a key focus for students at Stamford American International School (SAIS).  A select set of students therefore attended the Hague International Model United Nations, the largest MUN conference in the world, with more than 3,000 students in attendance.
The SAIS students presented and debated while representing Sudan for the five-day simulation in The Hague's World Forum.
Southbank International School, London, UK
Southbank International School delegates also attended the MUN conference in The Hague. In addition to the days of debating, they visited 'Humanity House' for an interactive 'refugee experience', in which they were given some degree of appreciation of what it must be like to flee a conflict and finally then end up in the Netherlands. It was a very intense, yet rewarding, experience for the Southbank International School Gabon delegation.
The British School of Barcelona, Spain
For the fourth year in a row, Sixth Form students at The British School of Barcelona participated in the Model United Nations conferences in Barcelona and Italy. The 11 'delegates' represented Singapore, Bosnia and Herzegovina, Republic of Congo, and Venezuela.
They were excellent ambassadors for the school, from their opening speeches to their lobbying against students from other schools. According to one teacher, "They made impressive contributions in relation to policy statements and resolutions and are very keen to attend future conferences. The students involved are a credit to their families and school and it was great to see them blossom throughout the event."