Cognita Schools on the ball with advice from Surrey Storm Netballers

Written by: Cognita Schools
Seven Cognita Schools from across England competed in a Netball competition in Guildford on Monday 10th March.
The schools took part in Cognita's first ever netball competition at the Surrey Sports Park, the elite training venue at the University of Surrey, Guildford and home to Netball Superleague leaders, Surrey Storm. Storm player Georgia Lees and their assistant coach Tallisa Haynes were there on the day to meet the students and give them valuable coaching advice. Surrey Storm beat Hertfordshire Mavericks last Saturday with a nail-biting 52-50 win at the London Olympic Copper Box arena.
Cognita's Director of Education Geraint Jones said: "I am excited that more than 80 of our promising sporting pupils across the country, aged between 11 and 15 gathered for this competition."
Under 13s and under 15s teams of seven girls took part from the following schools in a round robin tournament: Akeley Wood School, Buckingham; Chilton Cantelo School, Somerset; Colchester High School; Quinton House School, Northampton; Long Close School, Slough: Meoncross School near Fareham and North Bridge House School, London.
The overall winners were Quinton House School from Northampton, who won both the Under 13 and Under 15 categories. The full list of results is below:
Under 15
1st Quinton House School
2nd Akeley Wood School
3rd Chilton Cantelo School
4th Meoncross
5th North Bridge House School
6th Colchester High School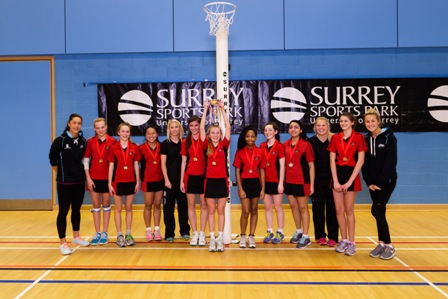 Under 13
1st Quinton House School
2nd Akeley Wood School
3rd Chilton Cantelo School
4th North Bridge House School
5th Colchester High School
6th Long Close School