100% success at Chilton Cantelo for GSCE Maths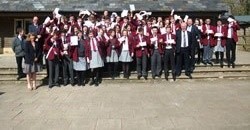 Written by: Chilton Cantelo School
An astonishing 100% of all our GCSE Maths pupils have just passed their final exams with 38% achieving A or A*. Our pupils finish their Maths exams one term early because the school introduces the GCSE curriculum early.
GCSEs at the school are introduced in the first term of Year 9 as a trial term to allow pupils to select optional GCSEs they are likely to enjoy and do well in. Formal GCSE courses begin in the January of Year 9.
Louise Phillips, Head of Maths and Sixth Form, said: 100% of pupils passing like this is just fantastic. I couldn't be prouder. Our pupils will now be finishing their other GCSEs with the added benefit of having completed Maths early.
Dr John Price, Headmaster, said: "For a non-selective school this is an amazing achievement. Clearly, our small class sizes, excellent teaching and extra tuition during our after-school workshops has had a positive impact. This school runs like a family and just like caring relatives, our teachers have made sure that their pupils excel. I congratulate both pupils and teachers. Well done."
Link to full article:
www.chiltoncanteloschool.co.uk